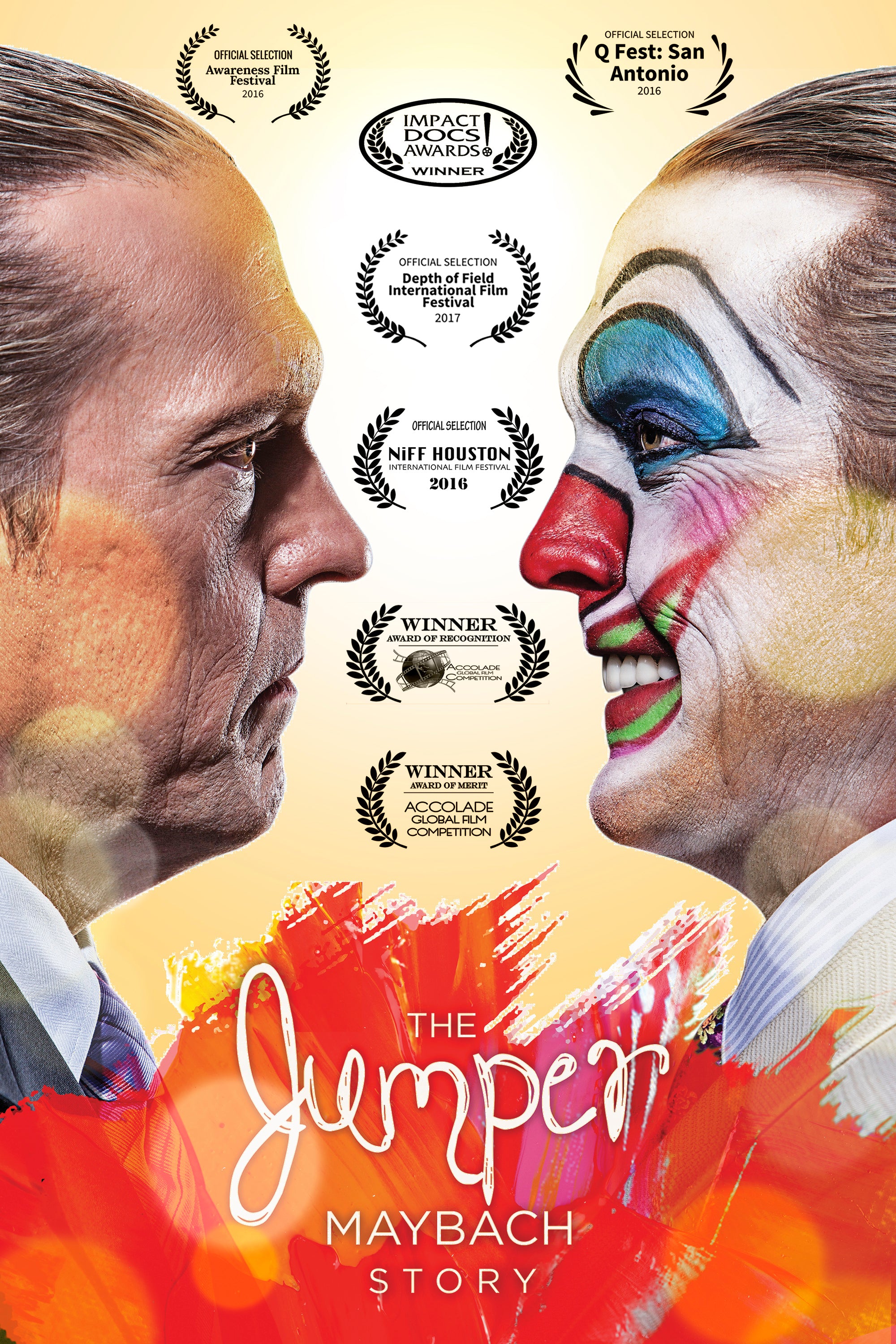 The Jumper Maybach Story
The Jumper Maybach Story is the autobiographical tale of Ben Workman. The film chronicles the years of bullying and intolerance endured by Ben while growing up in the conservative state of Texas. As his story unfolds, Ben takes the viewer on a journey through space and time; illustrating how a lifetime of discrimination, bullying and the resulting pain serves as fertile ground for enlightenment and peace.  He is pushed to his breaking point and then on one very powerful day everything changes.
From the darkest moments in his life Ben discovers his alter-ego, Jumper Maybach. He also discovers that through Jumper he has a God-given ability to create. Through this newfound freedom of expression, Jumper uses art to spread his message of unconditional love and universal acceptance. This is the inspiring story of how one man finds the courage to fight for equality in the face of overwhelming adversity and, along the way, discovers his truth.
Synopsis
Ben's journey to become the artist Jumper Maybach begins in the 1960's in Corpus Christi, Texas. Early in his childhood, Ben learns that he is different before he is even old enough to understand why. While he comes from a loving family, he is tormented and bullied by fellow students throughout his formative years and is shunned by his peers despite being an active student leader with academic accomplishments. Ben learns quickly that his kindness and academic success are no shield for hate. As a young adult, Ben struggles with the realities of his life including the realization that he is indeed gay. He seeks solace in his employment with a federal agency where he is recognized as a highly effective contributor to the team. However, his outstanding dedication does not protect him from discrimination in an environment where equal rights is nonexistent. He chooses to keep his orientation a secret to protect his family from any potential prejudice that may arise however he is "outed" by a co-worker. This begins a decade of Ben being ostracized daily in one form or another. His superiors, who fail to provide him with a safe equality-based workplace, participate in the discriminatory behavior. 
In 2010, after over three decades with this employer, having suffered emotional abuse and being marginalized for his sexual orientation, he finds himself on the brink of an emotional precipice.
From the ashes of a once productive life, the artist Jumper Maybach steps forward and becomes instrumental and vital to Ben's healing process. Jumper, Ben's alter-ego, arises at a moment in time when Ben is seeking strength and guidance. He finds the answer deep within himself. Artist and humanitarian Jumper Maybach emerges energized to become a part of the anti-discrimination, anti-bullying, and equality for all movement. Jumper's mission is clear; no matter one's sexual orientation, skin color or religious beliefs, Jumper is there to promote and to be a beacon for unconditional love, universal acceptance, and the freedom to be who and what you are. 
While Jumper's paintings are an exorcism for all the pain that Ben has suffered, they also offer spiritual and emotional healing for all victims of persecution by revealing how to turn darkness and despair into light and comfort. 
The documentary features interviews with many important people in Ben's life as well as in the equal rights community including Ben's attorney Mary Sinderson; celebrated equal rights activist Reverend Helen Havens; and friend and painter/actor Pepe Serna (The Jerk, Scarface, American Me). Ben's life-partner and soulmate of 21 years, David Sanford, shares his feelings of support and devotion for the man and artist he dearly loves. The film also features a behind the scenes look at Ben's "Jumper" work as an abstract painter and the emotions and positive energy that go into each painting he creates. Director Alan De Herrera paints a candid portrait of a man split in two halves, trying to become whole again. He shows us behind the scenes snapshots of the art and the creative energy that have made Jumper Maybach a positive force for social change
Director's Message
I first passed on the Jumper project thinking I wasn't the right choice to tell this story. After all, I'd been only directing nature documentaries for the last 10 years. What did I know about being gay or about being discriminated against? I had lived a pretty carefree life growing up in Southern California. At first I thought this project was only a gay rights issue. But the deeper I delved into Ben Workman's life, I quickly realized it was more a story about survival; fighting for the right to simply be who you are without the fear of retribution or alienation. In that context, Ben's story was no different than the story of my seals and struggles they endure. It's all really the same. That was the inspiration for telling Ben's story. This is a very personal project for me and I'm hoping this film will speak directly to those individuals who still struggle to find acceptance for who they really are. I also think Ben is a very brave guy telling his story of pain and suffering on camera. But what's most inspiring is that he was able to turn his life around and find his real purpose in life; to promote peace and understanding though his art. Perhaps this film will help continue the conversation about equal rights.
Sincerely,
Alan De Herrera
Director, DP and Editor